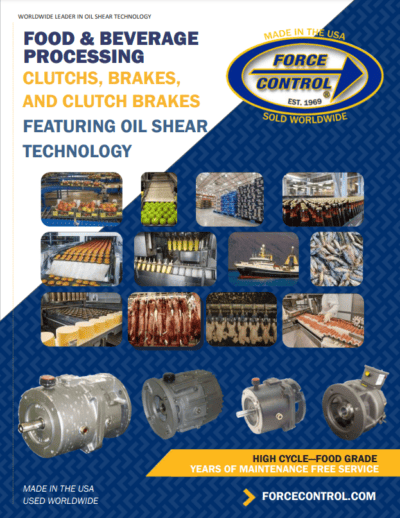 Washdown Options for Food Processing Applications
Force Control offers a washdown option for all oil shear products. The purpose of the washdown option is to prevent damage and early failure due to moisture, water, saltwater, caustic spray or chemicals.
Our oil shear products are, by design, totally enclosed in a heavy duty cast iron or cast aluminum housing. The main goal is preventing the outside of the unit from early failure. Nickel-plated shafts protect the shafts from damage due to corrosion. Non-Metallic breathers, sight gauges, etc. are used, stainless steel is chosen for external fasteners, clamping collars and conduit boxes on the electrically actuated MagnaShear brakes.
Nickel-Plated/Stainless Steel Shafts
Stainless Steel Locking Collar
Stainless Steel Fasteners
Steel-It Epoxy Coating
Non-Corrosive Breather
Non-Corrosive Sight Gauge

A STEEL-IT epoxy coating protects the housing from most common moisture or chemical agents. The epoxy coating system utilizes a unique stainless steel leafing pigment. This catalyzed system creates a hard, non-toxic, metallic finish that safeguards a wide variety of materials from the effects of ultraviolet rays, chemicals, oils, alkali, food acids, water immersion, abrasion and high pressure wash downs.
The pneumatically or hydraulically actuated units can be ordered with washdown valves, regulators and gauges.
When ordered with a motor, or a complete drive assembly the Washdown Duty options is available. Contact your local Distributor, Manufacturers Rep, or contact your Force Control Application Engineer direct at 513-868-0900.
---